30 julio, 2012
Autor:
admin

…………..
Las hormigas kamikaze que corroen a sus enemigos
………
……
Ants kamikaze that corrode their enemies
……..
……
BBC
…………
…..
Etnopaisaje.com
………………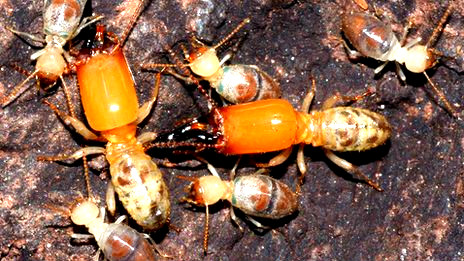 …………….
Las termitas llevan «mochilas explosivas» con potentes sustancias tóxicas
……
……
Termites are «explosive backpacks» with powerful toxic substances
……
……
A medida que envejecen, se vuelven más temibles y letales.
………
………..
Para defender a su colonia, algunas termitas literalmente explotan liberando una lluvia de sustancias químicas que dañan a sus enemigos.
………
……
Cuando se ven frente a una amenaza, varias especies de termitas utilizan el suicidio altruista de algunos individuos, denominado autotisis, para defender al grupo
…
…
En una determinada especie, cuando las trabajadoras envejecen y se vuelven menos capaces de cumplir con sus tareas, almacenan sólidos cristalinos que producen una reacción química al mezclarse con otras secreciones. Esto aumenta considerablemente el poder tóxico de las sustancias defensivas.
………
…….
Los biólogos creen que de esta forma las obreras de mayor edad se vuelven más «útiles» a la colonia como un todo, transformándose en verdaderas kamikazes y bombas defensivas
……
……………….
As they grow older, they become more fearsome and deadly
…
….
To defend his colony, some termites literally explode releasing a barrage of chemicals that damage enemies.
……..
…….
When they see a threat, several species of termites used altruistic suicide of some individuals, called autotisis, to defend the group.
………
In some species, when women get older and become less able to fulfil their tasks, stored Crystalline solids that produce a chemical reaction when mixed with other secretions. This considerably increases the toxic power of defensive substances.
….
…….
Biologists believe that in this way the older workers become more «useful» to the Colony as a whole, becoming true kamikaze and defensive bombs
………….