24 enero, 2011
Autor:
admin

……………………………..
El inicio del fin de la energía fósil
Vamos a la tertulia del University College
Interviene el moderador: Ramón Fernández Durán nos habla de la "Quiebra del Capitalismo Global" y que hay que prepararse para el inicio del colapso de la Civilización Industrial, ya que se inicia el fin de la energía fósil. Su pensamiento no deja de ser sorprendente, según él, el apoyo que en los últimos veinte años ha tenido  la lucha para frenar el cambio climático por el capitalismo, ha estado basada en la defensa de sus intereses económicos, porque prevén que las reservas de petróleo y de gas natural en las dos próximas décadas se puedan agotar y hay que buscar nuevas energías alternativas que sigan permitiendo el crecimiento económico .Que cosas tenemos que oir, pero nuestra tertulia está abierta a todo tipo de opiniones que puedan enriquecer la información de nuestros lectores. Somos conscientes que se impone cada vez más este tipo de periodismo del pueblo, que está ajeno a los  intereses económicos que mueven muchos medios de información e igualmente esta ajeno, no a la política ,si a la partidocracia, que corrompe la de verdadera democracia que el pueblo se merece.
Interviene el primero: voy hablaros de  "Uncivilization. The Dark Mountain proyect" que dice:
"Esta vez el imperio que se desmorona es el insaciable capitalismo global, y el mundo feliz de la democracia de consumo que se ha intentado forjar en todo el mundo en su nombre. Sobre la indestructibilidad de este edificio hemos puesto las esperanzas de esta última fase de la Civilización Industrial (…) Pero por todas partes alrededor nuestro se están produciendo cambios que sugieren que toda nuestra forma de vida está pasando ya a ser parte de la Historia(…) Estamos entrando en una era de declive material, colapso ecológico e incertidumbre social y política, y nuestras respuestas culturales deberían reflejar todo esto, más que negarlo (…) Pero estamos atados todavía por la creencia de que el futuro será una versión mejorada del presente"
Interviene el segundo:  Richard Heinberg  nos dice:"Nos estamos encaminando hacia una nueva era caracterizada por el agotamiento de los recursos (y muy en concreto el petróleo y el gas), la caída continuada de la energía neta disponible y la desaparición del espacio ambiental disponible para poder lanzar residuos a la Naturaleza sin consecuencias inaceptables para las sociedades humanas. Estamos entrando ya en un siglo que quedará definido por los límites ecológicos, y por nuestra respuesta a esos límites. La tentación será aplicar las actitudes y comportamientos que fueron justificables y rentables en el pasado siglo a las crisis que enfrentaremos en este. Si fuera así, el resultado será una catástrofe histórica monumental. Tenemos sólo una pequeña ventana de oportunidad para caminar hacia un futuro deseable para nuestra especie mediante la reducción del consumo de combustibles fósiles, al tiempo que nos orientamos hacia un régimen de energía renovable y un modelo de economía justa y sustentable. Ha empezado ya el tiempo de descuento"
Interviene el tercero: Ramón Fernández Durán nos dice "Durante el periodo excepcional entre el derrumbe del "Imperio Oriental del Socialismo Real"(1989-91) y la crisis de Wall Street (2007-2008), pareció que el "Imperio Occidental" se consolidaba y ampliaba su alcance a escala mundial definitivamente, inaugurándose una especie de Vacaciones de la Historia, en presente continuo. Un sistema industrial más ágil, flexible, consumista, "democrático" y glamuroso era capaz de imponerse y engullir a otro más torpe, burocratizado, con escasez de bienes y servicios, fuertemente represivo y sobre todo gris. El Fin de la Historia, lo denominó Fukuyama (1992), para caracterizar el triunfo planetario del Capitalismo Global de corte liberal-occidental. Pero todo fue un espejismo temporal propiciado por más de veinte años de energía barata, es más, muy barata, el periodo de coste energético más bajo de la Historia, como resultado de la caída espectacular de los precios de petróleo desde los ochenta (Fdez Durán, 2008); lo que también propició la incorporación clave de la China "comunista" al nuevo Capitalismo Global, reforzando su mundialización."
El moderador interviene: seguiremos tratando estos temas en los próximos días
………………………………
…………………………..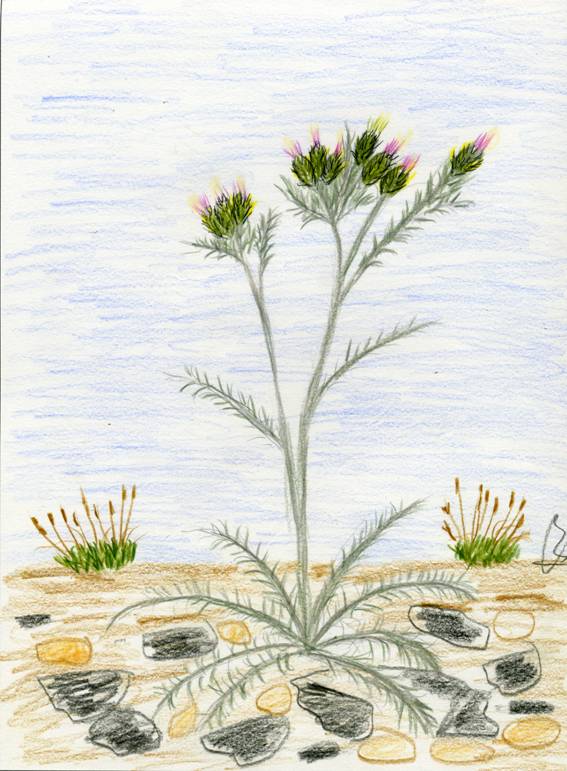 ……………………………………
Cardus carlinoides Flora of the Spain
…………………………
…………………….